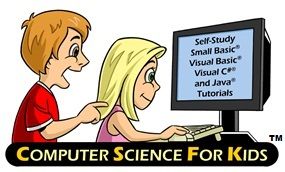 Computer skills in general, and computer programming skills more specifically, are becoming almost a necessity in the world that our children are growing up in. I look back and remember being the first class in our high school to even have access to their first computers for students back when all you got when you turned it on was a DOS prompt. How things have changed since then!
Computer Science for Kids is a company that specifically offers a series of computer programming courses for students in middle school and high school. These self-study programming tutorials teach the student to program using Microsoft® Small Basic,
Visual Basic®, Visual C#®, and  Oracle JavaTM  . Our family had the opportunity to review the Computer Bible Games for Microsoft Basic.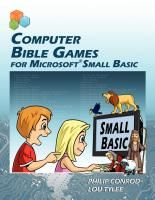 The Computer Bible Games program comes in both a physical book form and an ebook version. We received the ebook version. There were no problems downloading the product.  After the download was complete, we did need to go into our Windows Explorer to open and drill down into the folders to get to the main folders that we would use regularly. We started by reading the file titled "Start Here." This program is based on the use of Microsoft Small Basic which can be downloaded for free at http://msdn.microsoft.com/en-us/beginner/ff384126.aspx. I discovered this based on the helpful information contained in this first document. Once the software has been downloaded from the Microsoft site, you are really ready to go with both the programming tutorial from Computer Science for Kids and the free software from Microsoft.
Computer Bible Games for Microsoft Basic is broken into 13 chapters of study. Each chapter takes an average of about 3 to 6 hours to complete. My twelve year old and I  set a goal to get through a chapter per week during our month long review period and actually got through the first five chapters, so we were right on schedule. Chapters 1 and 2 provide a small introduction into what computer programming is, its history, and the basics of getting started. The student will actually complete their first program in Chapter 3 and go on from there with a new project of increasing difficulty in each new chapter.
The projects do start out simply with just a few lines of code and introducing new functions or commands individually. The Microsoft Basic Program itself does have menus to work with and some drop down options to help avoid spelling issues when typing which can pose a problem for students.
This project for example helps the student to build a savings calculator. The calculator will ask for the users name, monthly savings amount, and the number of months he plans on saving. The program then calculates how much the user will save at the end of the period. For older students, it would be fun to have them further tinker with this program to add in a component for calculating interest.
In having some computer programming experience professionally, I give Computer Bible Games for Microsoft Basic a big thumbs up! The projects that are given to the students are incremental and can realistically be accomplished in a relatively short amount of time.  They use an actual computing language. The tutorial as a whole is also great from a parent perspective in that it does come with completed code files for each project. You as the parent do not need to know anything about computer programming to be able to help your student figure out where they went wrong if their project does not do what it was supposed to do. Computer programming in general is also a great way to get your children to logically think things through one small step at a time, which helps them in organizational thinking, tackling the different steps in any new project, and may even be a great training ground for the step by step thinking needed for successful completion of higher level math courses.
If there were a downside to this program it is in setting your child's expectations. Our son loves electronic games. He was really excited about this program until we started using it. The reality is Computer Bible Games for Microsoft Basic will not get your student to the point of producing high definition, high speed graphically animated games that will compete with what they would commonly come into contact with through any gaming systems. The problem was not in the program, but in our son's expectations. Computer programming is literally like learning a foreign language. Any new language will be learned one word at a time and realistically you will not be fluently spitting out complete paragraphs in the first several months. The same is true of computer programming. Computer Bible Games for Microsoft Basic is a great place to start. It is a good solid tricycle and will get your student well on their way to the multi-speed mountain bike they dream of!
A single user license for the downloadable ebook of this course regularly sells for $59.95. It is currently on sale for $34.95. This sale will last through July 4th.