Are you looking for creative ways of incorporating art into your homeschool experience?  I have always been intimidated to incorporate art into our homeschool in not having a lot of experience and knowledge in this area.  To be honest, I have also procratinated on these types of projects, because they seem to be so time consuming and messy.  However, regardless of my background or thoughts, kids love art, love creating, and learn so much through creative learning.  Using Global Art by Gryphon House was a good way for us to incorporate a bit more art into our school.  Stick with me and I will share how we used this resource.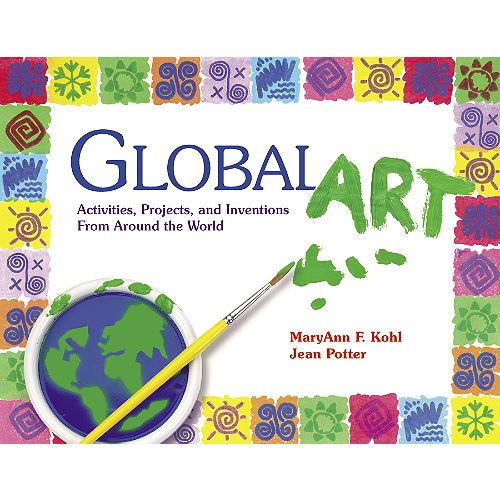 What We Received:
Global Art: Activities, Projects, and Inventions from Around the World by MaryAnn Kohl and Jean Potter is 190 page softcover book that is loaded with art related projects from around the world.  The book is organized by the continents of the world. At the beginning of each section there is a brief discussion about the continent and then a bibliography of children's books that the authors recommend for further reading on the countries on that continent.
Each of the art projects for a given continent identify the country this art medium is used in, a Did You Know? tidbit of knowledge of how the art is part of their culture, a list of materials, and the step by step directions to follow to complete the project.
The authors also use a set of icons at the top of each project that let you know if parental supervision is highly recommended, the art medium being explored, the amount of preparation each project takes, and the difficulty level of the project.  This icon system was very helpful in picking out the projects we tried first in being able to gauge according to what materials we had easily accessible, the amount of time to budget for the project, and what age child could do the project without a lot of frustration.
There are several indexes in the back of the book.  The first is one by art medium.  This allows you to explore how collage, for example, is used in different countries around the world.  There is an experience level index which allows a quick reference for projects according to difficulty.  If time is of the essence, the Preparation Index is what you would be looking for.  There is also a final index that shows all the project organized by the country of origin.
How We are Using Global Art:
Global Art is mainly designed for elementary aged children.  We are actually using it with our middle school aged son who is studying World Geography.  Geography can be a very dry type of subject to teach and learn unless you are very intentional about taking a creative approach.  Our goal is to incorporate art, music, recipes, and videos from the various countries we are studying to help liven up the material so our son gets a real flavor for the people rather than memorizing a sundry of facts that feel meaningless to him.  We can't take a field trip to each country, but want him to have a feel for what he would encounter in going there.  We are also incorporating missionary biographies that highlight the lives of missionaries that are serving around the world.
I loved the experience icons at the top of the projects.  They allowed me to pick more difficult projects for him to work on since he is a bit older than the typical student that would use this resource.  He explored wood burning from West Africa, metal casting from Nigeria, stone mosaics from Israel, Island Maraccas from the Caribbean, and Chamorro mat weaving from Guam.
The projects were pretty much self explanatory for a middle school student.  I remained available to help, but many times our son was able to work independently and then proudly share his creations it us.
Our Thoughts:
I really like Global Art as a resource to supplement a geography study or to add a cultural relevance in doing art projects with children.  This could be used as a stand-alone art curriculum by adding some of the literature suggestions and doing some mapwork with your children as well.
Global Art retails for $16.95 which makes it an affordable resource to incorporate into your homeschool library.
As always, you don't have to take my word for it.  See what others on the TOS Review Crew have to say.